Ootsutsuki gets all chakra natures.
-Taijutsu
Yasogami Kūgeki (Eighty Gods Vacuum Attack). Target is hit by a barrage of multiple giant, god-like fists.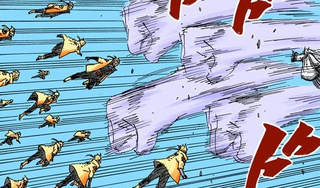 Tomogoroshi no Haikotsu (All-Killing Ash Bones). A 5 tile wide area of bone projectiles are fired at the opponent.
-Ninjutsu
Bōchō Gudōdama (Expansive Truth-Seeking Ball). Works like chibaku tensei but instead of exploding it just hits you. Should be twice the size or .5 times bigger
Kanashibari no Jutsu (Temporary Paralysis Technique). Takes 1/4 of your chakra and stuns for 5 seconds. 30 second cooldown.
Togebari (Rabbit Hair Needle). Fires multiple needle-like projectiles similar to tsukmo for shisui susano.